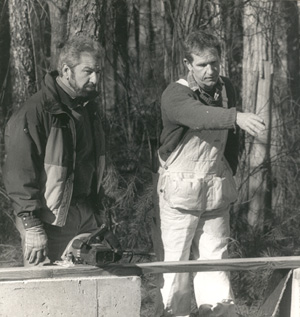 Founder of Ryley Builder's, Bob Ryley, is second generation in his field. Both his Father and Uncle were developer's and carpenters in and around the Boston area. As an apprentice, Bob was immersed in all aspects of home building.
Ryley Builders was founded on Cape Cod in 1978. In the early years, Bob along with his two brothers built and framed Cape-style homes and condominiums. As their reputation for fine carpentry and dependability grew, so did their business. With a crew of carpenters proficient in both framing and finish work they became sought after by a number of discriminating owners and architects for specialty work. This in turn evolved into general contracting. They have also branched out into home inspections, and consulting.
Over the years, Bob Ryley has become involved in many non-profit and charitable organizations such as Early Childhood Intervention and the Noah Shelter. He is also affiliated and has appeared with Bob Vila, as master carpenter, on his show "Home Again" since it's inception.